At this year's Dreamforce event, new features were introduced for Salesforce and Slack users, including the Canvas feature, a canvas where teams can share and work in real time.
But what is Slack?
Slack is a messaging application for a company's employees to communicate and share information through direct messages or channels, dashboards, files and more.
And what changes does Canvas bring?
Now it can be used: a canvas where a work team such as sales or marketing in real time can share knowledge and experiences using information from Salesforce and be able to make changes to these records in real time, it will be like meeting with your team but without having to move from your seat to find a workroom. This means that on one screen a sales team will be able to view Salesforce opportunities in one channel, upload, organize and share files, they no longer need to use a whiteboard to share their opinions. In addition the team will be able to have a workflow that creates notifications or approval processes.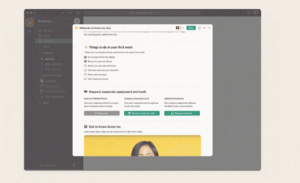 Now imagine using it in a marketing campaign, marketing teams will be able to plan with their partners the campaigns in canvas, In the channel canvas the teams share files and data, Once this task is completed they update the email draft links and mockups and then share with their partners previews of the designs. With the Marketing Cloud integration they can run the campaigns, update them whenever necessary and once live view campaign performance data without having to switch applications.
Now with this new functionality sales and marketing teams improve their experience and productivity when collaborating in real time. Slack Canvas will be available next year.